Fiber-optic Internet is currently one of the best technologies in the world for delivering internet based service to homes and businesses. Fiber Internet is up to 200x faster than anything else.
How fast is fiber really?
In a comparative study, the following shows an example of the different download times between standard broadband and Fiber-optic Internet.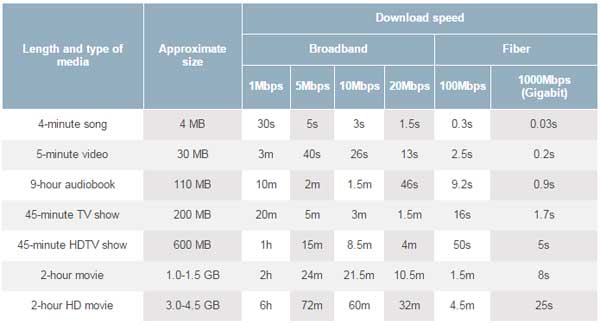 Fiber allows you to seamlessly experience web browsing, HD video streaming, and online gaming without worrying about your connection slowing down, even nights and weekends when everyone is online.
Need to do some work from home? Fiber makes it hassle-free. No more long waits to upload or send large files. Video conferencing made easy.
Fiber is less prone to downtime like copper and wireless based services. It provides a more secure consistent and complete coverage.
In addition to the many benefits of faster internet access, fiber connectivity also provides delivery of related technologies including phone and television services.
Are you surfing the web at gigabit speeds?